North Avenue Beach
provides advertisers with a unique opportunity to reach a wide spectrum of consumers. It's Chicago's busiest beach, packed not only with volle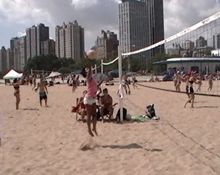 yball players (there are about 50 courts), spectators and beachgoers; but also people from all walks of life. A bike and jogging path trace the outskirts of the beach, where singles, couples, families and groups stroll by. The historic North Ave.
beach house
offers concessions, shops and restaurants. Toss in its spectacular view of the Chicago skyline, and this beach i
s a powerful magnet that draws thousands of Chicagoans to its shore on a nice summer day.
We offer sponsors a reasonably priced opportunity to advertise on North Avenue Beach during our tournaments. Promotional tents and banners start at $500. Product sampling, sales and more exotic advertising are also available.