In Chicago, the beach volleyball season is as skimpy as the attire worn by its athletes. For just a few months, from Memorial Day through Labor Day, the warmer days and longer nights draw players out from their indoor gymnasiums, and they descend like locust upon the region's numerous sand volleyball courts to participate in Chicago's most popular summertime sport, beach volleyball.


Chicago Beach volleyball has traditionally been an adult activity; the social aspects being its driver. Weeknight leagues and weekend tournaments have long enjoyed strong ties to the local pubs and its alcohol distributors.


But this summer there's been a sea-change in its participants. Teenage girls flocked to the sand courts in record numbers.
Numerous factors were behind the surge in the sport's popularity among the girls. Local volleyball coaches are just now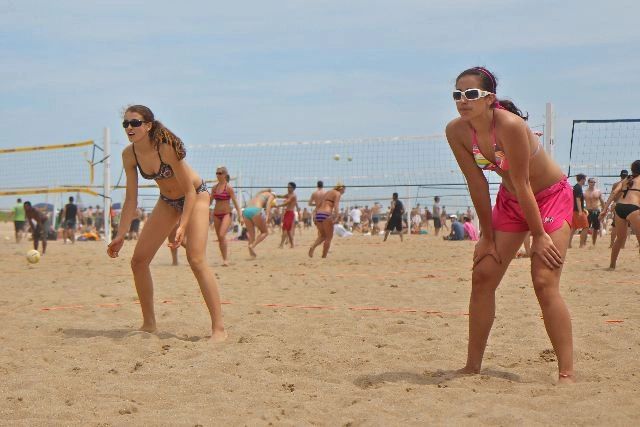 Bryanna & Taylor, 16U Champs
The North Avenue Beach Ball

learning what the west coast has known for years; that the two-person beach game quickly develops a player's all-around skills. As suc, more and more coaches are encouraging their athletes to take up the sport.
After spending a summer playing on the beach, coaches have found that their players not only returned to the gyms sporting fantastic tans, their skill sets were also greatly enhanced. That's because playing under the crucible of the hot summer sun, within the framework of an intensely competitive tournament, players are forced to quickly develop the skills necessary to succeed. And those skills are passing accuracy and spiking proficiency, as well as overall quickness and endurance.


Further driving its popularity this summer were two other important factors. Earlier this year, the NCAA listed sand volleyball as an emerging sport for women, thus providing volleyball players another path to securing highly prized college scholarships.


Also, this summer the legendary North Avenue Beach Club joined forces with local juniors indoor volleyball clubs and national associations to develop a comprehensive juniors beach volleyball program throughout the Chicago region. The highly regarded Beach Club is renown for organizing the best leagues and tourneys in Chicago. For our area's players, parents
Julia & Emily, 16U Champs
The Twin Lakes Beach Ball

and coaches, the opportunity to play in a professionally run event, along with the potential to secure bids to national events, proved to be a powerful magnet.
The Beach Club held numerous events throughout the Chicago region. Three tournaments were held at North Avenue Beach, the Midwest's premiere volleyball venue. To further promote the beach game to suburbanites, additional tourneys were run in the popular suburban courts of Four Lakes in Lisle and Twin Lakes, Palatine.


Cathy Cheng, spokesperson for the Beach Club, explained the organization's marketing approach. "In the past, we only ran adult events, and they were limited to North Avenue Beach. Sure, it's a great place for volleyball. But, if you're from the suburbs, playing at North Avenue could be pretty intimidating. To get there, not only do you have to fight traffic; you have to find decent parking, which is always difficult and expensive. Then, when you finally arrive on the beach - boom, it's intimidation time. You encounter enormous crowds and superstar athletes.


"Once we added the juniors program," Cathy continued, "our objective was to reduce the barriers to participation. We wanted to bring these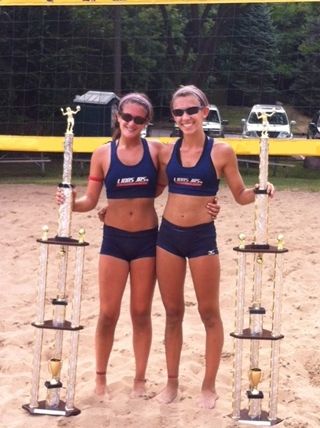 Team Babich/Truitt, 14U
Four Lakes Beach Ball
tourneys to where many of the players live - out in the 'burbs; and in more tranquil settings."
The venues selected by the Beach Club offered free parking and easy access. The result, tons of players signed up; these events quickly sold out. And once exposed to the game, players were hooked. That's because, as Cathy noted, "The true secret to the surging popularity of the sport is simple; it's a heck of a lot of fun."
One measure of a sport's success is the enthusiasm and dedication exhibited by its participants. This dedication was on display at the final event of the summer, The Windy City Championships, held on July 24th at North Avenue Beach. In addition to the aforementioned barriers posed by transportation and parking, weather became a major issue.


Morris Minuskin, tournament director for the Beach Club, described the day. "The forecast called for a passing shower in the morning, quickly giving way to one of those beautiful Chicago summer days that we all love. Well, we were out on the beach early in the morning setting up all these nets and ropes when the passing shower arrived." Morris shook his head and sighed as he recalled that the shower not only failed to pass, it lingered and grew in intensity.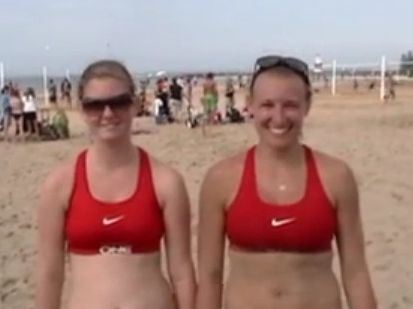 Jenny & Kate, 16U Champs
The N Avenue Beach Ball
"So it's now a half-hour before check-in time," Morris continued, "and that shower had turned into a deluge. I've been running adult tourneys for ages; I knew what this weather meant – no shows, lots of 'em. We were on the verge of cancellation. Yet, we all had our cell phones out checking the weather sites, and we knew it was going to clear up soon. So we figured we'd go ahead and finish with the set-up, just to accommodate those brave souls who might come out."


According to Morris, as check-in time approached, although now in the midst of a near-monsoon, players started to arrive; gathering under the shelter of the boathouse. "At first, there were just a few of them, girls and their parents," Morris continued. "And every once in a while I'd look over, and the crowd kept growing and growing. Soon, the area was packed. It was like something out of Hitchcock's, 'The Birds.' And most incredible of all," Morris paused for a chuckle, "I remember this one girl came up to me, rain matting down her hair, her broken umbrella bowing outward from the intense wind, and asked if her team could enter as a walk-on. It was insane.


"Well," Morris concluded, "the rain moved on, the sun came out; it proved a picture-perfect day. And only one team was a no-show. The event ran smooth as silk; not one problem, not one complaint. It was one of our best tournaments ever."


Sixteen of the teams that qualified from the Chicago tournaments flew down to New Orleans to compete in the national competition, which was held the last weekend in July. The girls embraced the southern hospitality along with the fierce competition.


Most of our area's teams made it into the top twelve in their respective divisions; three came away with medals. In the 14U division, Grace Barrett and Katherine Kopecky took home silver. 16U bronze medal winners were Emily Cassletto and Julia Thompson. And in the 18U division, Aren Cupp and Ashley Prince won bronze. (
full results
)

Katie, Grace, Tess & Kaitlyn


14U Medal Winners


Julia & Emily
Bronze medalists
Overall, these tourneys were, as Cheri Barrett, proud parent of two Junior Olympians, put it, "A great, well-organized, experience!"


Now that the teenage girls have discovered the beach scene, what's the next big trend in beach volleyball?


"Are you kidding?" Morris asked with a smile. "As night follows day, it will be teenage boys."